Mapping the Distinctive Flavor of Central American Cocoa
Small-scale farmers in Central America grow high-quality cacao but lack the effective means to market it beyond their borders. Fine chocolatiers are constantly in search of distinctive flavors but lack knowledge of cocoa produced in El Salvador, Honduras and Nicaragua.
Lutheran World Relief (LWR), an international NGO, has stepped in to fill the gap by creating the Regional Cocoa Flavor Map, an online tool documenting the distinct flavor profiles of cocoa produced by LWR farmer and cooperative partners in the three Central American countries. It was recently unveiled at the Salon du Chocolat 2017, an international trade fair in Paris.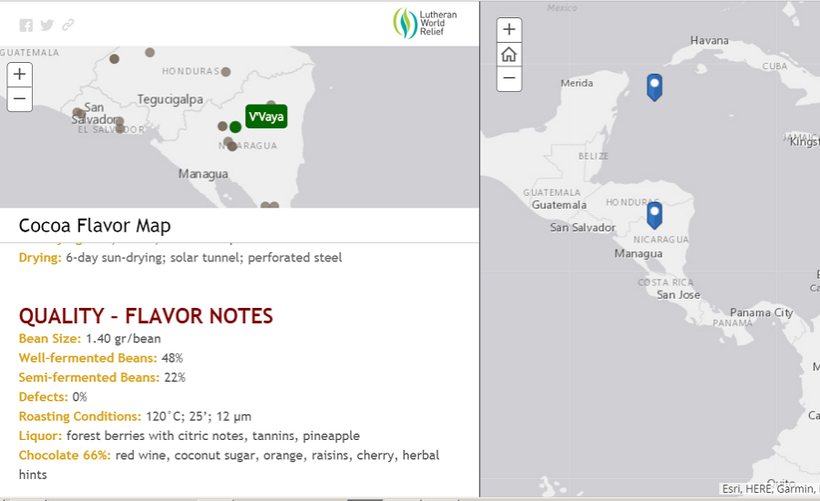 Graphic: A screenshot of the LWR Regional Cocoa Flavor Map.
The LWR Regional Cocoa Flavor Map will help these cocoa producers to better connect with buyers of fine and specialty cocoa, who can quickly identify the sources for the cocoa flavors, profiles and characteristics they are seeking.
"LWR's Regional Cocoa Flavor Map provides information, including geographic, varietal and organoleptic characteristics of 32 cacao products grown by farmers who have worked with LWR in El Salvador, Honduras and Nicaragua," said Rick Peyser, LWR senior relationship manager for Coffee & Cocoa. "This focus positioned LWR as an NGO working with cocoa farmers using a very high level of sensory science, which is of keen interest to premier chocolatiers who seek cacao with very specific flavor profiles."
LWR, with support from the World Environment Center (WEC) and U.S. Department of State, as well as COSUDE (the Swiss Agency for Cooperation and Development), started this initiative more than a year ago in partnership with ZOTO, a Belgium-based cocoa consultancy, and in collaboration with the Guittard Chocolate Company and Cocoa of Excellence.
Carolina Aguilar, who managed the development of the Flavor Map for LWR, said there are plans to add farmers and cooperatives in Guatemala, Peru and Colombia as well as additional regions in Honduras and El Salvador.
"LWR recognizes how useful this tool can be for the farmers and their organizations, so they can distinguish themselves and differentiate their products. This can result in a better price for the cacao that they are producing and higher incomes for farm families," she said.
Despite strong global demand for cocoa, producers from the developing world often struggle to capture just a fraction of the crop's full market value.
Dr. Zoi Papalexandratou, Lead Cocoa Advisor for ZOTO, said the Flavor Map will open doors of the international chocolate market to these Central American farmers and their cooperatives and will highlight the distinctive flavors of their cacao.
"The main scope of the project was to create a visual tool that illustrates the flavor diversity at the cooperative level, in some cases even at the cocoa blend level, as this was perceived through official tastings of the Cocoa of Excellence and project team," she said. "Such a cocoa flavor guide can help a chocolate maker select lots from different locations that express similar notes."
For the chocolate maker, the benefits of a tool like this include the ability to obtain exclusivity on special micro-lots, to purchase lots that exactly cover their needs, and increase knowledge, transparency and traceability of the whole processing process.
To view the Cocoa Flavor Map, visit: http://cocoaflavormap.cacaomovil.com.
Related Resources
View more posts from our ICT4Ag
More on This Topic from AgriLINKS
Topics:
Return to Top